From this Covid-19 pandemic and economic crisis, what changes have been made to the Malaysia's Tax developments? What are the tax incentives and reliefs for your company?
YYC Tax Guru - Zen Chow in this Webinar will guide you through case studies of major industries, with in-depth analysis and guiding you on how you can maximise company tax reliefs and incentives, so that your company can maximise tax savings and minimise tax burden on your company.
Company Tax Savings Webinar
YYC Workshop - Company Tax Savings is now available online! In this webinar, you will get guidance with in-depth explanations on latest Malaysian Tax Developments, covering all your concerns in tax reliefs, tax deductions, a must join webinar for you who want to maximise tax savings!
You must be prepared in tax filing, a proper and correct tax submission cannot be deal with in last minute! It may results in errors or overlook of tax savings where you can maximise. Master company tax savings and submission matters as early as possible, so that you can be stress-free even when the tax deadline is near.
Company Tax Savings Outline
6 Tax Pitfalls Bosses Must Avoid
1. Transfer Pricing

2. Withholding Tax
3. Entertainment
4. Professional Fee
5. Advance Income
6. Bad Debt
Top 5 Tax Savings Bosses Must Know
1. Utilisation of Brought Forward Business Losses

2. Interest Restriction
3. Specific Provision for doubtful debt
4. Fixed Asset – Capital Allowance
5. Write-Down of Stock
Bonus Session: Question Frequently Asked by Bosses
You will be able to:
1) Master latest Malaysian tax developments
2) Know you can save taxes from which business transaction
3) Learn correct reporting of taxes
4) Learn tax planning with strategies from Tax Guru
Date:
24th August 2022 (Wednesday)
Time:
2.00PM - 6.00PM
Language:
English
Platform:
By Zoom
01.30 pm - Registration
02.00 pm – Part 1
04.00 pm - Break
04.10 pm – Part 2
06.00 pm - Q&A - End
✔Business Owner,
✔CEO,
✔General Manager,
✔Finance Manager,
✔Accounting Manager and
✔any staff responsible in company tax matters
Recommended: Business Owner to participate with Staff!
✦ YYC Tax Guru & Tax Executive Director
✦ Licensed Tax Agent by Ministry of Finance
✦ Licensed GST Agent by RMCD & MoF
✦ Fellow Member of Chartered Tax Institute of Malaysia (CTIM)
✦ BBusCom (Monash), CPA (Aust.), C.A. (M), FCTIM
✦ He has been involved in the tax compliance and tax advisory works for more than 16 years in various industries ranging from manufacturing, trading (retail & business services), franchisor/ licensor, education, investment holding, investment dealing, forestation, agriculture, foundation, association and trade union.
✦ Active in giving tax related talks and seminars such as budget talk and tax updates seminar.
✦ Frequently invited by media such as Bernama and AiFM to share on tax topics.
✦Topics of expertise include company tax planning, personal tax planning, tax investigation, Malaysian annual budget analysis, latest tax developments and other tax related topics.
Original Price: RM 498
Promotion Price:RM 318
Limited Seats! Register Now!
***Claiming HRDF is available!***
Please Fill in the form below!
Payment Details:
YYC GST Consultants Sdn Bhd
Registration No. 201301043188
(1073010-M)
CIMB 8603-8631-36
Please note that purchase of our courses is non-refundable.
If in any case you are unable to attend, you must notify YYC in writing via email 3 working days prior to the course date, and you will be given the opportunity to transfer to another course.
Failure to attend without meeting aforestated notification deadline is considered a cancellation and NO refund will be issued. YYC reserves the right to change any of the above without any prior notice.
YYC Hotline: 019-368 6868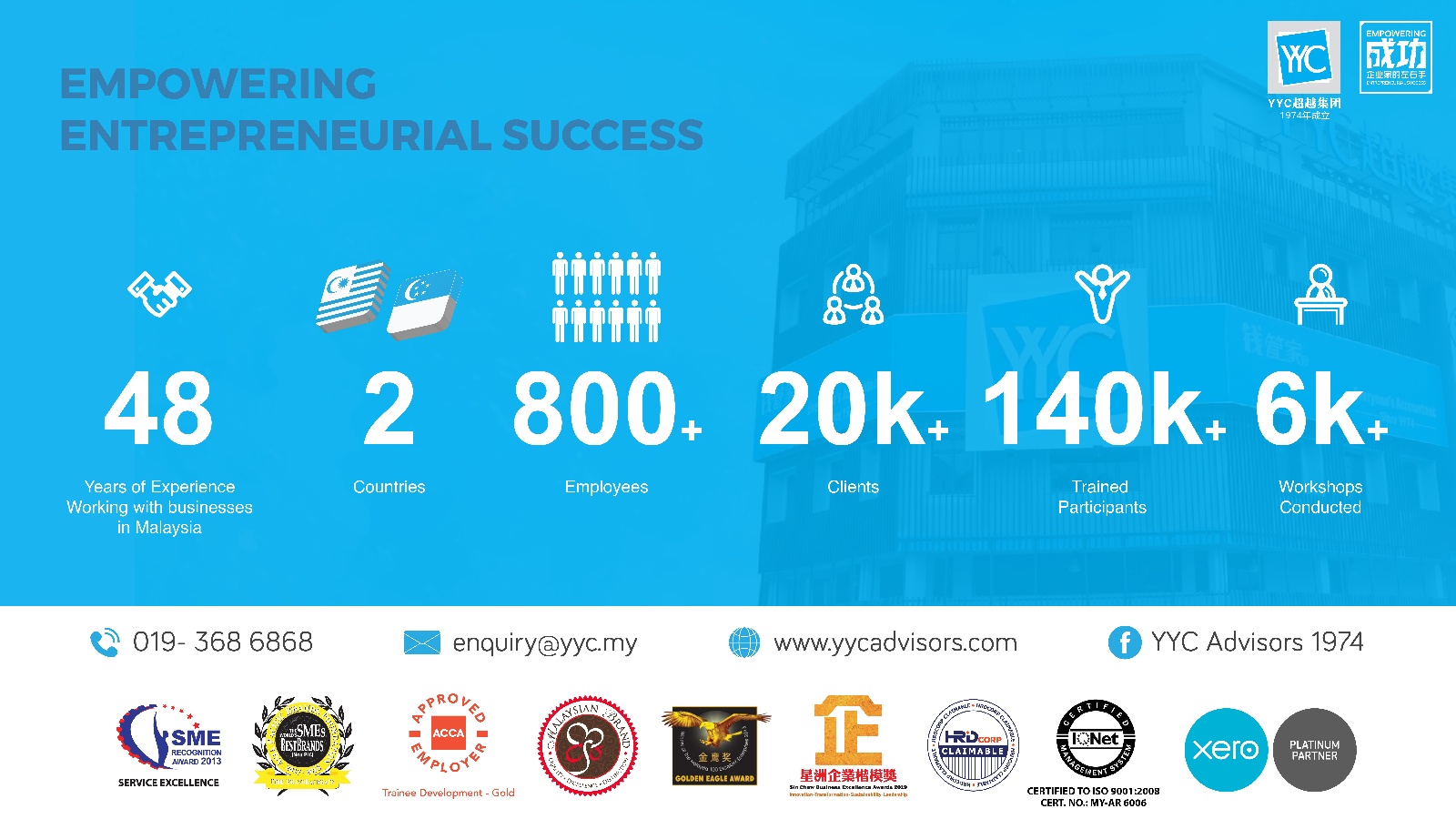 Copyright © 2022 YYC All rights reserved.